TRANSLIFT SERVICE MAKES THE JOB SAFER AND FASTER INSTALL TIMES.
TRANSLIFT SERVICE IN CALIFORNIA 949-514-3799
TRANSLIFT SERVICE AND PLATYPUS SERVICE AVAILABLE IN CALIFORNIA, NEVADA, ARIZONA AND OREGON. LETS GET THAT HOME OR OFFICE TRAILER MOVED IN CORRECTLY, SAFELY AND QUICK.
What is a trans lift?
A translift is a machine about 14 feet long that is just barely over a foot tall. It goes under the manufactured unit or office trailer or modular building, perpendicular to the unit. It basically can lift 40,000lbs. and move the unit laterally once its lifted up. it can tilt the unit side to side to make sure its level, before the tracks start moving.
Trans-lift service in all of the western states if needed
OUR HOME BASE IS RIVERSIDE CALIFORNIA, BUT WE ARE MOVE THAN WILLING TO DRIVE TO YOU JOBSITE AND HELP GET THE JOB DONE!
How much does it costs?
Translift service usually starts out at about $500 to just show up and includes the first hour. It runs $150 per hour afterwards. This doesnt include long distance travel time. Give us a call and we can usually give a pretty accurate price over the phone or email.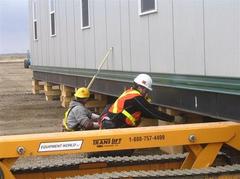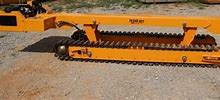 WE SERVICE ALL CITIES IN CALIFORNIA
WE SERVICE: HEMET, PERRIS, CORONA, ONTARIO, RANCHO CUCAMONGA, FONTANA, COLTON, RIALTO, ROMOLAND, HOMELAND, RAMONA, NUEVO, CORONA, LOS ANGELES COUNTY, SAN BERNARDINO COUNTY, RIVERSIDE COUNTY, KERN COUNTY, POMONA, CLAREMONT, UPLAND, BIG BEAR, LANCASTER, PALMDALE, WESTMINSTER, BEAUMONT, CHERRY VALLEY, INDIO, 29 PALMS, BANNING, TORRANCE, ANAHEIM, FULLERTON, HUNTINGTON BEACH, ORANGE, CITY OF INDUSTRY, COMPTON, TEMPLE CITY, ARCADIA, CERRITOS, DOWNEY, IRVINE, NEWPORT BEACH, MISSION VIEJO, RAINBOW, DANA POINT, SAN CLEMENTE, MORENO VALLEY, MENIFEE, LAKEVIEW, AGUANGA, WINCHESTER, SAN JACINTO, VALLE VISTA, VALLEY VIEW, PALA, CABAZON, YUCAIPA, REDLANDS, OAK GLEN, RIVERSIDE, CHINO, HESPERIA, CRESTLINE, BALDY MESA, PHELAN, ACTON, AGUA DULCE, VAN NUYS, SAN FERNANDO, GRANDA HILLS, NORTHRIDGE, RESEDA, SUN VALLEY, VENTURA, BEVERLY HILLS, HOLLYWOOD, SOUTH GATE, LYNWOOD, HAWTHORNE, EL SEGUNDO, MANHATTEN BEACH, SANTA MONICA, REDONDO BEACH, LONG BEACH, CYPRESS, SANTA ANA, FOUNTAIN VALLEY, TUSTIN, LAKE ELSINORE, WILDOMAR, CANYON LAKE, PAUMA VALLEY, SAN MARCOS, VISTA, OCEANSIDE, DANA POINT, LADERA RANCH, LAGUNA NIGUEL, ALISO VIEJO, YORBA LINDA, SANTIAGO CANYON, MEAD VALLEY, WOODCREST, CAJON, OAK HILLS, LUCERNE VALLEY, JOHNSON VALLEY, LANDERS, RIMROCK, PIONEERTOWN, YUCCA VALLEY, JOSHUA TREE, SUNFAIR, TWENTY NINE PALMS, RICE, VIDAL JUNCTION, PARKER AZ, POSTON, BLYTHE, RIPLEY, BRAWLEY, SALTON SEA, OCOTILLO WELLS, ANZA, ANZA BORREGO, SALTON CITY, LA QUINTA, COACHELLA, PALM DESERT, DESERT HOT SPRINGS, EASTVALE, JURUPA VALLEY, DIAMOND BAR, ROWLAND HEIGHTS, WALNUT, COVINA, WEST COVINA, AZUZA, GLENDORA, DUARTE, MONROVIA, EL MONTE, HACIENDA HEIGHTS, MONTEREY PARK, MONTEBELLO, ALHAMBRA, PICO RIVERA, WHITTIER, LA MIRADA, DOWNEY, BELLFLOWER, BELL, LAKEWOOD, MARINA DEL REY, INGLEWOOD, PLAYA DEL REY, BRENTWOOD, EAGLE ROCK, ALTADENA, LA CANADA, LA CRESCENTA, MONTROSE, SUN VALLEY, TUJUNGA, SYLMAR, CANOGA PARK, CHATSWORTH, NORTHRIDGE, CALABASAS, AGOURA HILLS, THOUSAND OAKS, SIMI VALLEY, BURBANK, TEMECULA, MURRIETA, IDYLLWILD, MOUNTAIN CENTER, MORONGO, WHITEWATER, MORONGO VALLEY, APPLE VALLEY, VICTORVILLE, PINON HILLS, LLANO, LITTLEROCK, PEARBLOSSOM, ACTON, SLEEPY VALLEY, SANTA CLARITA, CENTRAL VALLEY, BAKERSFIELD, MILITARY BASES, CALICO, LONG BEACH, MONTEREY, SANTA CLARITA, SANTA CLARA, SAN FRANCISCO, LOOMIS, SACRAMENTO, SHASTA, PIRU, CASTAIC, BARSTOW, INLAND EMPIRE, IRVINE, VISTA, CARLSBAD, OTAY MESA, IMPERIAL, BRAWLEY, YUMA, EL CENTRO, PALM DESERT, PALM SPRINGS, TULARE, VISALIA, SALINAS, KING CITY, CAMBRIA, MORRO BAY, PISMO BEACH, AVILA BEACH, SAN LUIS OBISPO, GILROY, SAN JOSE, STOCKTON, MODESTO, TURLOCK, SANTA ROSA, VACAVILLE, EUREKA, WEAVERVILLE, REDDING, WEED, MEDFORD, CRESCENT CITY, COOS BAY, LINCOLN CITY, RENO, CARSON CITY, MAMOTH LAKES, YOSEMITE, OLANCHA, SEQUIOIA, RIDGECREST, FORT IRWIN , PRIMM, BAKER, PARKER, BLYTHE
REAL INSTALLERS ALWAYS USE A TRANS-LIFT
USING CONVENTIONAL ROLLERS AND TRACKS CAN SOMETIMES BE DANGEROUS AND THAT IS ALWAYS A MUCH LONGER WAY OF GETTING THE UNITS IN PLACE.
USING A TRANSLIT CAN TURN A TWO DAY JOB INTO A 2 HOUR JOB. ITS QUICK, SAFE AND SO MUCH TIME IS SAVED AND YOU CAN NOT LET THE CREW GET BEAT
UP HAULING HEAVY TRACKS AND ROLLERS AROUND.