OFFICE TRAILER TOWING. COM
TEL. 888-608-6063
This is a 14 feet by 50 feet trailer being picked up in Bakersfield Ca. and heading to Orange county Ca. It needed 4 tires and doors cinched down before transport. Took two hours before it could be towed away.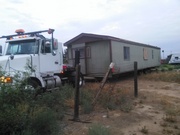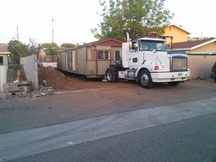 This is the same trailer going to its final destination in Orange County Ca. It was a very tight placement as the back alley was very narrow and did not allow for an easy back in.
PROPERLY SEALING UP AN OPEN SIDE AFTER SEPARATION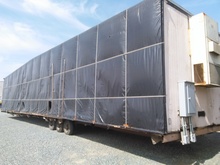 This office trailer section has been properly sealed up. It has the proper type of transportation plastic covering. It is thick enough to not come apart at highway transport speeds. Very important. It also has been secured to the trailer properly, which is had to see, with very long crown staples. It also has meshed tape across it in a grid pattern, just in case it did come apart, it would not tear completely and possible hinder the view of an adjacent vehicle. Safety is the number one important factor with Patriot Mobile Home Towing.
Side view of the 6 way hitches we use. Tall mast allows much needed travel for any kind of situation.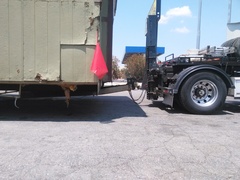 This truck has the ability to also dump the air supply out of the rear suspension allowing us to lower the ball hitch even lower. This adds great safety to the driver and to the owner of the home or office trailer as this helps prevents jolting during raising of the trailer, which could cause damage from other lesser equipped trucks.
WE ALSO TOW RV TYPE TRAILERS, PORTABLE STORES
This is a 48 ft. long portable store going from los angeles to Florida for one of our regular clients.
Verizon, another one of our regular customers.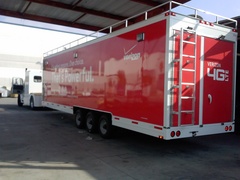 Why do they call us? Because of our very competitive pricing and our quick availability and because of our equipment and expertise.
WE TRANSPORT PARK MODELS ALL OF THE TIME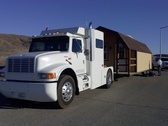 Brief Description
TEL. 888-608-6063
OUR FAX NUMBER: 909-354-3160